Interested in learning real historical swordsmanship?
This is the right place.
Who we are: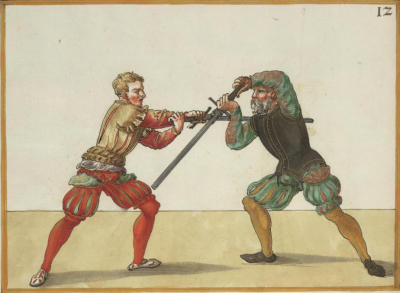 ARMA Guam is the Guam Study Group for the Association of Renaissance Martial Arts, popularly known as ARMA. ARMA is an educational non-profit organization dedicated to the study and practice of historical fencing and the exploration and promotion of the Western martial heritage. ARMA focuses on the interpretation and legitimate reconstruction of Medieval and Renaissance combat systems as a modern discipline. ARMA endeavors to approximate historical fighting skills through a curriculum of reconstructed techniques, principles, and methods for using a variety of swords, spears, shields, staff weapons, daggers, and unarmed grappling and wrestling skills as taught in numerous surviving Medieval and Renaissance Era books and manuscripts.
Our Purpose:
Study European arms and armor from the point of view of their historical function and use.
Study historical source literature as instructional fighting guides.
Examine historical European martial culture within a broader historiographic context.
Study, Interpret, Practice, Promote, and Teach the martial arts of Renaissance Europe.
Our Objectives:
Offer classes based on ARMA's system of established drills and exercises
Train members to successfully complete ARMA's Member Training Programs
Advance the quality of skills demonstrated with Medieval and Renaissance weaponry
Offer members the benefits, advantages, camaraderie, and opportunities of pursuing the study of the martial arts of Renaissance Europe as a group
Attempt to improve the relationship between practitioners and academics in order to stimulate the exchange of knowledge and encourage understanding of historical European combat skills
Raise the level of historical fencing scholarship and practice on Guam
Assist in the study and preservation of Renaissance era historical sites on Guam